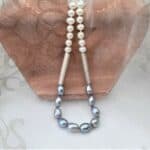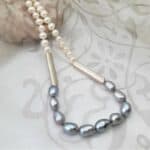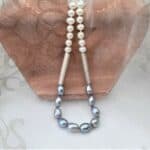 SILKE
€245,00
Silke – Subtle contemporary Freshwater Pearl Necklace designed with Dove Grey Freshwater Pearls & Brushed Sterling Silver feature links.
The White Silke Pearls are button shape and measure 6/7mm  ~ silver cream lustre – silver feature links measure 31mm in length. 
The Grey Silke Pearls are baroque rice shape measuring 7x10mm.  Overall length 50cm fitted with Marquise Shape sterling silver clasp.
 All our pearl necklets & bracelets are restrung up by Maria, our Pearl Designer.