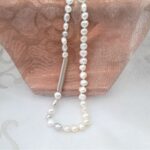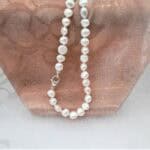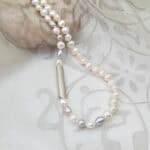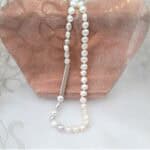 AINE
€135,00
Aine – Subtle asymmetrical Freshwater Pearl Necklace designed with Dove Grey & White Freshwater Pearls & brushed Sterling Silver feature link by Pearl Perfect. 
The Aine Freshwater Pearls are mix of button and rice shape, with bright lustre & grey pink overtones.   Pearls measure 6-7mm & silver link measures 31mm in length.  Overall length of necklace is 46cm, fitted with a Sterling Silver Trigger Clasp.
All our pearl necklets & bracelets are restrung up by Maria, our Pearl Designer.
Aine is a unique design – Only one Available.