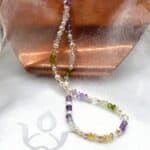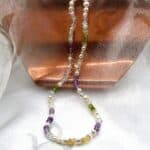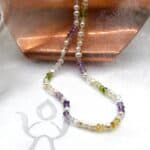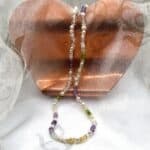 ZOLA
€265,00
Delicate Necklace designed with pastel Amethyst, Citrine, Peridot & Blue Topaz faceted beads and scattered with white freshwater pearls.
Zola is a one off, unique design ~ crystals & pearls measure 4.00-5.00mm ~ overall length 66cm ~ without a clasp as designed to slip over head.
All our pearl necklets are restrung up by Maria, our Pearl Designer, and can be made up in the style & length of your choice.