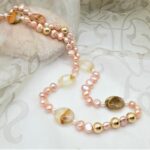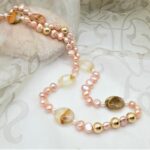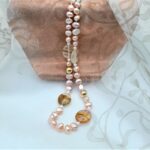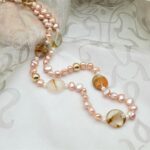 ERIN
€225,00
Subtle Pink Freshwater Pearl Necklace enhanced with the warm tones of pebble shape Banded Agate, with gold bead detail by Pearl Perfect.
The Erin Freshwater Pearls measure 7mm- Quartz Beads 16mmx14mm – Rolled Gold Beads 8mm – Overall length 65cm – designed without a clasp.
All our pearl necklets & bracelets are restrung up by Maria, our Pearl Designer.
Erin is a unique design – Only one Available.