Sale!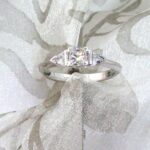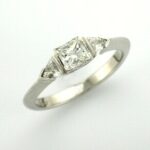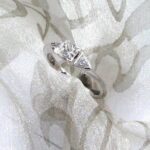 EMELIA JANE
Elegant Diamond Ring set with Princess Cut Diamond with Trillion Cut Diamonds with a simple clean settings. The shank has a knife edge shoulder to tie in with the tapering shape of the Trillions.
Custom made in 18ct White Gold – Diamond Weight – 0.65 carat.   
Emelia Jane  is an original ring from our stock collection at our Design Room in Terenure, Dublin where we were based for over 20 years.   As all client design work now is bespoke, we no longer need our ring collection so have reduced remaining pieces to clear.     
Only One Available