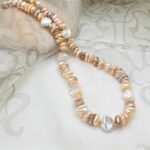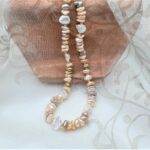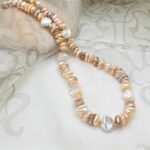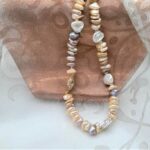 PETULA
€395,00
Pretty warm Peach & Plum colours in this Freshwater Pearl Necklace showcase the varied shapes of non-nucleated pearls, typically called Keshi by Pearl Perfect.
Petula is completed by the scattering of 9ct Gold rondelles and White Keshi Pearls throughout the necklace, finished with a 9ct Gold Marquise shape clasp.
Overall length of necklace is 46cm.
Petula is a unique necklace – Only One Available.