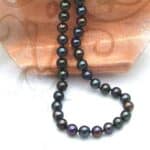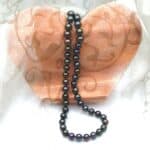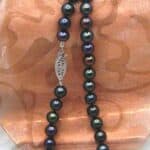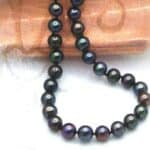 PEONY
€225,00
Stunning Peacock Freshwater Pearl Necklace on Sterling Silver Clasp. The lustrous black tones of the pearls change along the necklet giving a variety of colour flashes from pinks to greens,  just as you would seen in a peacock's tail.
Peony pearls measure 6.5mm with bright lustre & green, pink, purple overtones -~ 43cm overall length ~ fitted with filagree sterling silver clasp.
Peony is Sold – New design coming up soon.