Sale!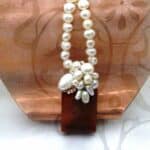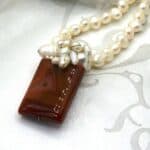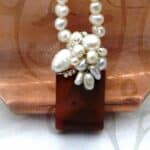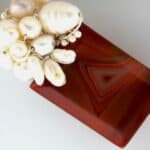 NICIANNE
This Striking Banded Agate Pendant is garnished with a cluster of Freshwater Pearls, worn with large Button Shape Pearl Necklace & finished with Sterling Silver Clasp.
The Agate Pendant measures 60x25mm,  features classic quartz banding ~ Necklace Pearls measure 7mm ~ Overall length 44cm.
Nicianne is one of our unique pendants, from the 'Enchanted Collection' designed & handmade by Maria, our Pearl Designer.
Note: The broken lines in the first gallery image are a reflection of LED lighting for camera ~ Daylight image shows classic agate banding.