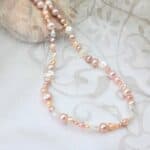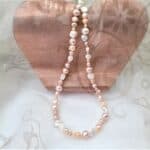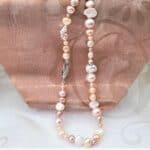 CELESTE
€179,00
Exotic Freshwater Pearl Necklace featuring naturally coloured freshwater pearls in shades of Peach with White Keshi Pearls scattered through the design.
The Celeste pearls range from 3-8mm in size, bright lustre with golden overtones – fitted with textured clasp in sterling silver –  overall length 50cm.
All our pearl necklets & bracelets are restrung up by Maria, our Pearl Designer, and individual designs can be made up in the style & length of your choice.   
The Celeste Necklace is Unique – only one available.
Celeste is sold– new design coming up soon