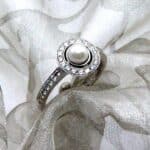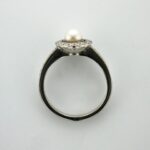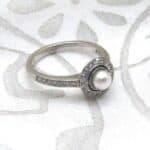 JADE
Jade – Delightful Pearl & Diamond Ring set with Cultured Pearl & Diamond set halo and shank to half hoop level. The Millegrain Edge detail gives that Vintage look.
The Jade Pearl Diamond Ring is Custom made in 18ct White Gold – Cultured Pearl measures 4mm,  with bright lustre with silver pink overtones,  Diamond Weight – 0.33 carats – Pearl Diamond Ring White Gold.
Jade is Sold but similar designs available by commission.