Sale!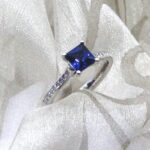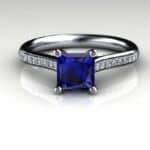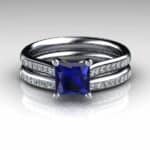 DAWN
€2.995,00
Dramatic Ring set with feature Princess Cut Sapphire & Princess Cut Diamonds channel set to half hoop level.
Dawn is an original ring from our stock collection at the Design Room in Terenure, Dublin where we were based for over 20 years.  Custom made in 18ct White Gold ~ Sapphire Weight – 0.92ct,   Diamond Weight – 0.25 ct – G/VS.    The Sapphire is a lively deep blue with lighter colour flashes.
As all client design work now is bespoke, so we have reduced remaining stoc to clear. Shown with Matching Diamond set wedding band which is available to order.   
Dawn CAD renders show design detail of setting but not true colour of the sapphire..